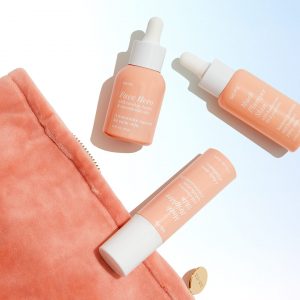 Go-To Skincare Review
Lately, we've noticed a lot of positive Go-To Skincare reviews surfacing on social media and the wider web. So, naturally, we couldn't wait to dive into this Australian skincare brand to find out what all the fuss is about!
In our thorough and unbiased Go-To Skincare review, we will look at this self-proclaimed "useful, simple, effective, trustworthy, and fun" brand. We'll consider where the company came from, the founder's background, company ethics, and more.
We'll also look at some of Go-To Skincare's most popular and bestselling products and analyze thousands of Go-To Skincare reviews from real customers… All so you can discover what this company is all about and whether it's worth your attention.
About Go-To Skincare
Go-To Skincare was founded by the Australian beauty editor and author Zoe Foster Blake. The company was founded after years of Zoe using and reviewing "bazillions of products" and discovering that so many women found skincare "utterly baffling."
Go-To Skincare was Zoe's answer to this overly complicated and confusing industry. Promising simpler, "less stressful" skincare that would "give people confidence, rather than strip them of it "and their cash." With a no-nonsense tone of voice and products that feature fun, friendly names, Go-To Skincare quickly won the hearts (and skins) of millions worldwide.
According to the company website, "Go-To is a simple, effective range of skin essentials based on best-in-class botanical ingredients." The products aim to be as effective yet gentle as possible and don't waste time on "silly claims or trends." Instead, they focus on "thoughtfully, obsessively created, stringently formulated, useful skincare that you'll like using, and your skin will love."
And the thousands of Go-To Skincare reviews we've analyzed certainly suggest this brand lives up to its promises. People love the moisturizing, hydrating, glow-inducing skincare range available here. And customers with all different skin types have found the products to be effective.
More about Go-To Skincare
What's more, Go-To Skincare has a sustainability and cruelty-free ethos that we can really get behind. The brand has been certified as cruelty-free by PETA and works hard to limit its environmental impact "by reducing, reusing, and recycling." The brand is even carbon neutral (since 2018) and has been certified by the Carbon Reduction Institute as a NoCO2 Business.
We also love that Go-To works hard to keep products free from palm oil and other nasty ingredients that are bad for the environment or your skin. The founder is "an active and passionate ambassador for The Orangutan Project," so you can rest assured that when shopping with this brand, you're not contributing to deforestation or any other unethical practices. Sounds good so far!
Pros
Go-To Skincare has a wide variety of products, including cleansers, moisturizers, masks, etc., for men, women, and even children. Features only the best, clean ingredients.
All products are free from "nasties" such as parabens, PEGs, sulfates, GMOs, mineral oils, petrolatum, palm oil, or synthetic colors. Almost all fragrances are also natural.
Certified cruelty-free.
Committed to sustainable practices – Go-To has been carbon neutral since 2018 and uses recycled (and recyclable) packaging.
Free shipping on US orders, with free samples available.
Handy and informative blog, written in straightforward, conversational English – like getting skincare advice from a good friend who's also an industry expert!
Afterpay available.
Cons
Some Go-To Skincare reviews mention they found the products greasy or caused breakouts.
The Go-To Skincare customer support seems to be very inconsistent – although many customers praise the support team, others claim it's almost impossible to get in touch with them.
There aren't many Go-To Skincare reviews available on the internet outside of the company's website or Facebook page. For example, Go-To Skincare doesn't appear to be listed on Trustpilot or the BBB.
Visit Go-To Skincare
Go-To Skincare Products Review
Now we know a bit more about the company, it's time to look at what really matters… The products!
Go-To Skincare The Removalist Review
Go-To Skincare The Removalist is a "detoxifying clay mask for a complete cleanout." It's suitable for all skin types (including sensitive skin) but will be particularly beneficial for those with oily, congested, or acne-prone skin.
The "hero ingredients" are listed as kaolin clay, zinc oxide, and pepper berry fruit extract. These combine to create a luxurious face mask that effortlessly draws out impurities, cleanses and cleans the pores, calms and soothes the skin, and reduces redness all in one simple product!
Like all Go-To Skincare products, The Removalist is 100% cruelty-free and made in Australia.
The company claims The Removalist will "reset your complexion, giving pores a big-time clear out and leveling up your at-home facial by at least 200%" with no clogged pores, tightness, or dry skin.
Go-To Skincare reviews for this product are incredibly positive, with customers claiming the mask "smells amazing," has a "lovely texture," and makes their "skin feel so yummy." Other reviewers stated they "feel a noticeable glow in my skin seconds after removing."
Go-To Skincare Fancy Face Review
The Go-To Skincare Fancy Face Oil Cleanser is one of the brand's most popular products, with loads of beauty bloggers and customer reviews giving the cleanser some incredibly high praise!
The "nourishing oil cleanser" promises "very clean, nourished, supple, and super soft skin" while effortlessly melting away makeup, sunscreen, excess sebum, and dirt. Fancy Face features five botanical plant oils, including camellia, sunflower, sweet almond, argan, and passionfruit seed, alongside antioxidants and essential fatty acids, so the cleanser "replenishes as it removes."
We love that every Go-To Skincare Fancy Face Oil Cleanser bottle comes with a complimentary muslin Posh Cloth, making your skincare routine even easier, more effective, and more luxurious.
Go-To Skincare recommends using Fancy Face as the first step in your evening skincare routine, "to dissolve all your makeup, SPF dirt, and excess oil" you've collected during the day.
The reviews for this product are, again, very impressive. Customers claim Fancy Face is "amazing at removing all my [makeup]. Smells divine and feels like a facial."
Go-To Skincare Exfoliating Swipeys Review
The Go-To Skincare Exfoliating Swipes is another beloved product, rated by customers and beauty bloggers alike. Although many bloggers claim they were skeptical before using this product, it seems like everyone who's tried it has become an almost instant convert!
The brand sums up this product best: "single-use exfoliating pads soaked in an all-natural solution that gets rid of dead skin cells and hydrates the skin."
While we're not huge fans of single-use products, there's no minimizing the positive reviews this exfoliating skincare product has received.
Go-To Skincare Exfoliating Swipeys utilize naturally-derived lactic acid (the most gentle acids) to gently exfoliate the skin surface while aiding skin cell renewal and rejuvenation to keep "skin softer and looking younger for longer."
In addition to lactic acid, the Swipeys contain aloe vera to nourish and soothe the skin, plus Pink Starburst – "extracted from the snack cupboard, excellent for improving mood and ruining your dinner"!
Reviewers love the convenience of these "sweet, disposable little cotton pads" that promise to thoroughly remove dead skin cells, refine skin texture, minimize the appearance of fine lines, and deeply moisturize "all in 60 seconds." Go-To calls this product "exfoliating made easy (and nice-smelling)." It definitely seems like the wipes live up to this!
Go-To Skincare Very Useful Face Cream Review
Another popular item in the collection, Go-To Skincare Very Useful Face Cream is beloved by customers and beauty bloggers. The daily moisturizer "defends your face against premature aging, and smells pretty alright, too."
Featuring powerful antioxidants – including CoQ10 – and "dazzling amla berry – an American fruit known to have "30x more antioxidants than oranges" – alongside "many lovely replenishing oils and butters," this cream is perfect for dry, dehydrated, and/or aging skin. It also helps protect the skin from free radicals while feeling lightweight and refreshing.
Go-To Skincare reviews say the Very Useful Face Cream is "lightweight, smells great, makes my skin feel smooth and glowy." Others ask, "how can such a light cream be so moisturizing?" One customer even said, "Very Useful sells this a little short – I would call it Absolutely Necessary."
Go-To Skincare Much Plumper Skin Review
The Go-To Skincare Much Plumper Skin Serum is a rich, hydrating serum packed with peptides, provitamin B5, and FOUR different types of hyaluronic acid. This combination of ingredients promises to "expertly quench and plump your skin" for that radiant, bouncy, vibrant appearance you've always dreamed of.
The serum promises to "deeply replenish even extremely dry or dehydrated skin! By boosting hydration and sealing in moisture, "penetrating deep within the skin's barrier" for impressive and long-lasting results.
As always, Go-To Skincare's Much Plumper Skin Serum is 100% Cruelty-free and is even suitable for vegans. The "hero ingredients" include sodium hyaluronate, panthenol, and acetyl hexapeptide-8… But don't worry if you're not sure what those fancy-sounding ingredients are; Go-To Skincare explains what each ingredient is and why it's helpful in plain English, so you can always understand what you're putting on your skin.
Reviews for this product suggest it does exactly what it says it will… "Gives me glowing, plump skin!" One customer claimed they "feel like [they're] at a resort day spa just by applying." Another called it the "Best Serum Ever!"
Go-To Skincare Reviews from Customers
Promising "plant-based, uncomplicated, effective skincare" that "won't piss off your skin" is great… But does Go-To Skincare achieve its goal of proving effective skincare that people can easily understand and use?
Based on the Customer Testimonials Go-To features on its website, we'd say 'yes.' Here, customers praise Go-To for high-quality products, fast shipping, and a "great experience all round."
Go-To products also receive high praise on the website, with the "(Glowing) Testimonials" page showing an impressive score of 5-stars across 23,650 reviews. Customers claim Go-To Skincare products are "lovely and light but deeply nourishing to the body," and many compliment the "divine" or "yummy" scents.
But we never just look at brand reviews on their own website – as these can be victims of filtering to produce a more positive overview. So, we've also looked at Go-To Skincare reviews from independent review sites and retailers to get a more rounded view of the company.
Although we couldn't find Go-To Skincare on Trustpilot, we did check out the brand's Facebook page, where it scores an impressive 4.6-stars across 142 reviews. Positive Go-To Skincare reviews on this platform compliment the brand and products, stating their "skin feels amazing" after use. Many customers also praise the "amazing customer service" and call the products "daily essentials."
Further customer reviews
However, it's not all good news. Although plenty of customers had a great experience with Go-To customer support, others tell a different tale… With a handful claiming "customer service wouldn't assist" with their problems. We also noticed a few reviewers experienced lost or very late deliveries, with little support from the Go-To team.
On other independent review sites, we also discovered several customers who found the products "so greasy my skin looked like I was sweating profusely." Others noted an allergic reaction or increased breakouts while using the products.
Although frustrating, the fact that a few people had a negative experience with the products doesn't necessarily put us off. There's no such thing as a one-size-fits-all approach to skincare, so, inevitably, a few customers might not experience the intended results.
Sign Up for Go-To Skincare
Signing up for a Go-To Skincare account is the best way to make the most of your skincare shopping.
Once you've signed up, you'll be able to join the Go-To Loyalty Program (the "Go-To Gang"), get free treats, birthday gifts, exclusive Go-To Skincare discount codes and offers, and the brand's "undying respect."
Plus, sign up for "non-annoying emails" for "emails about skincare stuff, new products, and cute goat pics." If the Go-To blog is anything to go by, this email list is worth subscribing to!
Where to Buy
You can pick up the full Go-To range on the website – us.gotoskincare.com.
Go-To Skincare is also available in select boutiques across the US, including:
Anthropologie
Revolve
Glow Apothecary
Carbon Beauty
Many Go-To Skincare products are also available on Amazon.
Go-To Skincare Shipping and Return Policy
Standard shipping is free for US customers, with an estimated delivery time of 1-3 business days. Order by 11:30am on a weekday, and your order will be dispatched the same day!
You'll receive full tracking information with your order confirmation, so you can easily keep an eye on your order as it makes its way to you.
International shipping is $18 or free for orders over $100 and will usually arrive in 5-9 business days – or you can shop on the brand's local website for better shipping prices.
If you're not 100% satisfied with your Go-To Skincare purchase, you can benefit from a 30-day money-back guarantee. Email info@gotoskincare.com to let them know you'd like to return a product, and the customer support team will walk you through the process.
Promotions & Discounts
Although Go-To Skincare discount codes aren't overly common, subscribers to the email newsletter have the best chance of gaining some exceptional and exclusive offers.
But even when there aren't Go-To Skincare discount codes floating about, the brand does work hard to give you the best value for money. Treats like free samples with every order and free US shipping aren't to be sniffed at, and the Gifts & Sets collection is a great way to bag a bargain when shopping for your favorite Go-To essentials.
Contact Go-To Skincare
Go-To Skincare doesn't have a phone number for customers, so the best way to get in touch is via email at info@gotoskincare.com. The company also has a thorough FAQ section and a great blog that are likely to resolve most queries.
You can also contact Go-To Skincare using the live chat button in the bottom right-hand corner of every webpage on the Go-To website.
The customer support team seems to receive mixed reviews. While many customers have called this department "amazing," others have almost given up on ever getting a response. So it seems to be quite 50/50 whether you'll get awesome or awful service with this brand.
Go-To Skincare Reviews: Editors' Verdict
Now we've looked at the brand's backstory, ethics, products, and loads of Go-To Skincare reviews from real customers… We have to say this brand feels very impressive!
Almost every Go-To Skincare review we looked at (including a handful from beauty bloggers and editors) raves about the high-quality products that do what they promise and claim they experienced incredible results even after a handful of uses.
Sure, this brand has its share of less satisfied customers, but this is inevitable for skincare brands, as everyone's skin is different.
What did worry us a little was the negative reviews regarding customer service. Because there's only one email address, we imagine this can be difficult to stay on top of, and it's not particularly surprising that some customers have received a less-than-ideal service when trying to get in touch. And although there is a live chatbox, when we tried to use it, the customer support team was offline, and we couldn't find 'opening hours' listed anywhere for this function.
But despite the handful of less positive comments, we must recommend Go-To Skincare. The brand promises "plant-based, uncomplicated, effective skincare" that's always cruelty-free and made with the most sustainable practices… And it delivers!
We would probably agree with some of the mixed Go-To Skincare reviews – it's worth buying a 1-month sample of any Go-To products to ensure you get the intended results before committing to larger quantities. But that's generally good advice whenever you're trying a new skincare product.
Looking for more skincare brands? Read our reviews of the 15 Best Skincare Brands. Alternatively, we have reviews about Vegamour and Each & Every. 
The post Go-To Skincare Review appeared first on BrandRated.