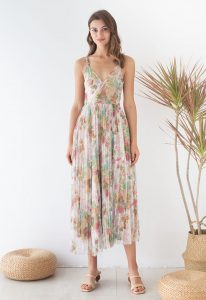 Chicwish Review
Chicwish is every girl's dream: It is an online shop that sells a wide variety of classic women's and unisex clothing. Their collection includes chiffon skirts, dresses, prim, and tulle pieces. The brand's handmade and vintage-inspired collections are popular among people who love fun fashion. We'll highlight Chicwish reviews from customers, its bestsellers, return and shipping policies, discounts, and more to help you determine if you will add their collections to your wardrobe.
About Chicwish
Chicwish is an online store that was opened to serve the younger generation a unique sense of girly fashion with a touch of quality and affordability. As an online clothing company, it majors in vintage and handmade collections while trying to establish a mecca where all fashion enthusiasts can gather and purchase what they want. 
Chicwish is an established company available in the United States, United Kingdom, and Asia. It is popular in these areas because of the blend of cosmopolitan outlooks and a dynamic lifestyle that offers the company a thriving environment. 
Designers who work for Chicwish are offered to trend new ideas and a creative space where they can express their artistic talent and inborn creativity. The company consists of a dedicated team of fashion buyers loaded with many years of experience in the fashion industry. Their skills and years of experience enable them to stay ahead of others. They research and analyze modern trends and bring on board the most outstanding and fashionable trends to their customers. 
All the fashion items at Chicwish are picked single-handedly as a guarantee of uniqueness and quality. Chicwish is a quality-driven brand, and its main goal is to deliver the best fashion service to its customers. The brand has 867k Instagram followers and more than 1 million followers on Facebook.
Before we get to Chicwish reviews from customers and their top-selling pieces, here are the pros and cons of this clothing brand.
Pros
They host frequent sales and offer an expansive selection of classic, trendy unisex, and women's clothing 
There are lots of positive reviews online from satisfied customers
The company offers affordable, trendy, and high-quality clothing, with customers having numerous styles and colors to choose from 
They are active on social media and constantly update their followers on new and trendy pieces
They have a user-friendly website that makes shopping easy and fun
Customers enjoy free delivery and shipping on orders worth more than $50
Cons
If you order various items, they will have different delivery times
There are cases where customers with multiple deliveries fail to receive some of the ordered items
They only offer free returns on the first order
Visit Chicwish
Chicwish Products Review
Chicwish clothes are fashionable, trendy, and affordable. The online clothing shop sells a wide variety of clothing accessories for women of all ages. This Chicwish review will now look at some of its best-selling products.
Chicwish Flamingo Dress
If you are looking for a girly and bold print dress, the Chicwish Flamingo Dress is the ideal option for you. The dress is designed with a flamingo print that will take you back to the 50s and 70s. The finishing of the dress is perfect when you pair it with a self-tie waist and a button-down front. It is a simple dress that will get people constantly asking you where you bought the piece.
The material of this dress consists of 65% cotton and 35% polyester. It is currently on offer, and you can get it for only $39.90. You can also pair the dress with hanging silver earrings, white doll shoes, or black 3-inch heels to spice up the look. 
The Chicwish Flamingo Dress is stunning with a triple layers skirt part. It is sleeveless and is available in a light peach color adorned with red flamingos all over. You can wear the dress to a wedding, a dinner date, or any formal event because it is modest. 
Like the Flamingo Dress, most Chicwish dresses are made from comfortable materials that are light and comfortable to wear. Their site comprises a vast collection of dresses in various colors, styles, and designs. You can also go for the Marvelous Floral Chiffon Maxi Dress in blue, Garden Glamor Watercolor V-Neck Dress, or the Sunflower Blossom Watercolor Chiffon Maxi Slip Dress. 
Chicwish Tops
The more tops you have the better. Every girl needs to have several tops that she can pair with her favorite denim jeans or that skirt that gets everybody talking. Chicwish tops are stylish and designed with high-quality materials. 
Based on Chicwish reviews, customers are in love with their tops because they are stylish. They say that people always turn heads when they are wearing these tops.
Chicwish tops are available in different sizes, colors, and categories. A good example is the Flutter Sleeve Twist Front, which is available in three colors: lavender, white, and off-white. The material is soft, stretching, unlined with floret and gingham texture made from 100% cotton. Therefore, this makes it comfortable, low-maintenance, hypoallergenic, and breathable. 
You can pair the top with your favorite skirt or denim jeans. It features a cropped hem, twisted front, v-shaped neckline, and flattering short sleeves. The back has a concealed zip closure, and it is also lined and suitable for cold hand washing. 
There are different sizes available; the first size is XS 39 cm in length, the small size is 40 cm in length, the medium size is 41 cm in length, the large is 42 cm, and the extra-large is 43 cm. You can wear the top on any casual occasion and pair it with the Chicwish Purple Maxi Skirt.  
Chicwish Maxi Skirt
The brand offers a range of stylish maxi skirts in different designs. Chicwish skirts are also available in different colors, with the most popular colors being beige, black, blue, and brown. 
The Chicwish Maxi Skirt collection consists of pieces that come in different sizes, including extra small, small, medium, large, extra-large, and double extra-large. The different sizes ensure that all the client's needs are catered for, and everyone can get a hold of their favorite piece.
The My Secret Garden Tulle Maxi Skirt is available in yellow. The skirt will give you a sunshine vibe with its yellow color that naturally signifies a bright and colorful day. The maxi skirt is made from a mesh fabric.
The skirt also features an elastic waist that stretches depending on your size. It has an inner protective lining that makes it modest, and you can even wear it on different occasions. Additionally, it is made from 100% polyester, making it wrinkle and abrasion-resistant, lightweight, easy to clean, and quick-drying. It's also suitable for handwashing. 
The yellow skirt effortlessly flows with a soft look. It is a perfect pick for a weekend event or as a casual work outfit. You can style it with a classy and simple black or purple top.
Chicwish Outers
Chicwish outers are available in different categories. The most popular ones are the cardigans, kimonos, and pom-pom chunky knit. They come in different colors like purple, pink, red and white.
The Button-Down Pearly Edge Crop Cardigan is available in orange, and you can get it for $55.90. It is super cute and adorned with pearls that will make you smile every time you wear it. 
The top features a cropped hem, ribbed cuffs, and hem. Furthermore, it has a knit fabric that provides elasticity, and it is made from 100% acrylic. This makes it lightweight, soft, and high insulating, meaning that it does a great job of keeping you warm.  
Other designs include Jewelry Button Short Sleeves, Embroidered Butterfly Self-Tie, Classy Pad Shoulder Short, and Three-Button Textured Blazer.
Chicwish Swimwear
Every girl desires to slay at the swimming pool with trendy swimwear. The choice of your swimwear will determine your level of comfort. Chicwish is the destination for those looking for stylish and comfortable swimwear. The brand offers a wide range of bikinis, cover-ups, one-piece swimsuits, and accessories. 
Their swim tops and bottoms are available in different colors and sizes. They also offer swimwear for both young girls to grown-up women. If you are looking for a sexy bikini, the light pink halter neck high waist bikini set will be the perfect option. It is currently on a 30% off and goes for $20.93. The bikini is perfect for a beach day. The pink stretchy fabric, triangle pads, and self-tie strings will make you feel comfortable while looking amazing.
The Halter bikini features unmovable padded cups and a high waist that is not lined. It is made from 82% polyamide and 18% elastane. Polyamide is the best material for swimwear; the fabric is waterproof and quick-drying and can be dyed in different colors. 
Other swimwear includes a passionate red halter neck, front fastening textured, solid white bikini set, greenery leaf knotted bikini, and summer daisy print cami.
Chicwish Reviews from Customers
We checked Chicwish reviews from customers and analyzed what buyers had to say about this clothing line. We found that there were lots of positive reviews written by satisfied customers. There were over 5964 reviews on the company's website, with an average rating of 4.7. The reviews are divided into business reviews and product reviews. 
According to the reviews we found on the internet, the brand's clothes are comfortable and look stunning. Many customers praised the clothes, saying that they are stylish and people always ask them where they bought the clothes whenever they are wearing them.
One of the customers gave a 5-star rating and commented that she bought a dress for her daughter's first birthday. The dress was fantastic with good material that suits a new mother. During her daughter's birthday, she says she received loads of compliments from her guests. The dress she bought is a slim fit, and she went for the midi dress. She did the slimming at the tailor, and it worked out perfectly. The good first-time experience made her buy three more dresses from Chicwish, and she loves them. 
Further customer reviews
Another customer highly recommended the clothing line after she bought blouses and skirts from them. She says the clothes fit perfectly, and they are made from high-quality materials. She continued by saying that she also loves how they are comfortable and light, and the colors blend in well. It was also easy for her to match the pieces with other clothes. She, however, raised a concern on the size and how best to help other customers get their correct sizes, which is a major issue among many clients. 
A happy customer from Amazon stated that she bought a new Christmas skirt. She ordered the skirt on 14th December, and it was delivered on 21st December. The customer is from the UK, and she said that she loved the skirt. She bought a size 14, which fits her perfectly, and it was super classy. She also promised to make future purchases from Chicwish. 
Sign Up for Chicwish
If you want to be part of the Chicwish family, visit the company's website and click on the Login button. Next, hit the Register Now button and fill out the registration form. You'll have to provide your first and last name and email address. 
Do not forget to check the box next to Sign Up for Newsletter; this will ensure that you are among the first customers who receive notifications about new arrivals and deals. 
Once you sign up for Chicwish, you can view a snapshot of your recent activity on the My Account Dashboard. You can also update your account information here.
Where to Buy Chicwish
You can purchase Chicwish products on their official website. Once you log in to the website, Chicwish.com. You can also buy some of their products on Amazon.
Chicwish Shipping and Return Policy
The company offers free shipping for orders over $50, and you should allow enough time for them to process your orders. Once your order is received you will get a shipment track number. 
If you purchase an item, and it does not suit your taste, you can return it within 30 days from the date you first received your order. Customers in the U.S. and those who place an order after 3rd September 2021 are qualified for free returns. 
The company offers a free return for first-time customers in the U.S. and the UK. Chicwish returns are only allowed on items that are unwashed, unworn, and undamaged with the original tag and packaging. 
Returns are processed within 7 to 10 business days after they have received your package. You can request to receive a refund to the original payment method you used to make the purchase or Chicwish store credit.
Chicwish Promotions & Discounts
Our team found several promotions and discounts available for Chicwish customers. They can use these offers to save money when purchasing clothes on the brand's site.
Free shipping on orders worth over $50
There is a 70% off discount during Spring Sale
Customers who order items worth more than $120 will enjoy a 15-percent discount when they use the code DM15
Orders above $180 get 10% off when the customer uses the code DM10
5% off on orders worth over $50 when you use the code DM5
Contact Chicwish
Chicwish is a company that is customer orientated, and they would love to hear your feedback. If you have any questions about their products, you can reach out to them via the chat feature or call them on their phone number 4152442879. You can also send their support team an email at support@Chicwish.com. Alternatively, you can send a direct message to the Chicwish Instagram or Facebook page.
Chicwish Reviews: Editor's Verdict
If you are a fashion enthusiast looking for stylish, trendy, and fashionable female and unisex clothing, Chicwish has got you covered. From the many positive Chicwish reviews that we came across, we can conclude that the clothing line is worth checking out. 
Are you looking for other fashionable brands? Check out our reviews of Adore Me, Grunt Style, and Annie Cloth.
The post Chicwish Review appeared first on BrandRated.