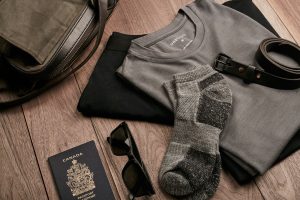 Unbound Merino Review
Unbound Merino is a clothing line that sells high-quality and long-lasting garments made from merino wool. They create simple, high-performance apparel suitable for any occasion. They are ideal for travel and daily life. This Unbound Merino review will highlight the brand's discounts, its best-selling products, customer ratings, and more to help customers decide if it is worthwhile. 
About Unbound Merino
Unbound Merino is a clothing brand that specializes in clothing pieces for men and women made from Merino wool. You may have heard of the company before because they are one of the few brands that make its socks. They also make hats, scarves, gloves, and other accessories.
Merino wool is a natural fiber that comes from the Merino sheep breed. It's soft, breathable, warm, and moisture-wicking. It has been used for centuries by people worldwide to keep them warm and comfortable during colder months. The reason it's so popular is that it doesn't itch like other fabrics do (like cotton), which makes it ideal for clothing such as socks.
What makes Unbound Merino stand out from other similar brands? Their products are made from 100% natural materials – no synthetics or chemicals are added during the manufacturing process. They also use an environmentally friendly dyeing process that doesn't require harmful chemicals.
Pros
The company offers a vast collection of clothing for both men and women
The brand's products are made of wool from the Merino sheep, making them long-lasting
The company's products are soft, breathable, and keep the wearer very warm
Their clothing is wrinkle-free and fast drying
The brand offers its products in bundles of multiple items, allowing customers to save loads of money
They ship to almost every part of the world
Cons
The brand's products are pretty expensive
The company's clothing sizing is limited, with XL being the largest size
The women's collection only has two packs of the black Merino T-shirt
Show now
Unbound Merino Hoodie Review
The Unbound Merino is a renowned clothing line that offers high-quality clothing. The company's clothing line includes t-shirts, sweatshirts, sweaters, hats, and socks. All products are made from 100% merino wool sourced from Australia and New Zealand. The garments are versatile enough to wear casual or dressy attire, depending on your needs. Unbound Merino hoodies are among the top-rated hoodies in the market. They look good, and they are soft and smooth, meaning they will keep you warm all day. This Unbound Merino Hoodie review will look into two of its best-selling hoodies to discover why people love their hoodies. 
Unbound Merino Travel Hoodie Compact
Made from 100% merino wool, Unbound Merino Travel Hoodie Compact is a travel-ready version of the brand's highly praised Travel Hoodie. It is naturally breathable and comfortable; athletes and outdoor adventurers have used it for centuries to keep them warm and dry during their adventures.
The Unbound Merino Travel Hoodie Compact features two front pockets, two side pockets, and a drawstring hood that you can cinch to keep out the elements. It also has an elastic hem to help keep the cold air out and your body heat in. The compact version can be easily folded into a small package that fits inside its pocket and weighs next to nothing.
Our Unbound Merino review found that their Travel Hoodie Compact comes in three colors: black, white, and navy blue. Here are some of the reasons why the hoodie is a favorite of many:
It's compact: You can fold up the hoodie into its pocket and keep it in your bag or luggage. At only 5 x 8 inches, it takes up very little space.
It folds into itself: You don't need to worry about wearing out the seams on this hoodie — when it's time to put it away, stuff it into its pocket and fold over the top twice for extra protection against dirt or damage during transportation.
It dries quickly: Merino wool absorbs moisture from sweat and then releases it as vapor back into the air when temperatures rise again, which means your body doesn't retain as much heat. Enjoy all these benefits with the Unbound Merino travel hoodie today.
Lightweight Kanga Hoodie
The Unbound Merino Lightweight Kanga Hoodie is the perfect layering piece for fall, spring, and summer activities. This hoodie is made from a blend of merino wool and nylon, making it soft and durable. The fabric also features moisture-wicking properties that help regulate body temperature so you don't get too hot or cold. 
The Unbound Merino Lightweight Kanga Hoodie also comes in various colors to find one that suits your style. It has a relaxed fit, making it ideal for wearing around town or just running errands on any given day. Its neckline is wide enough to keep your neck warm without feeling constricting or uncomfortable.
Unbound Merino Long Sleeve Review
The Unbound Merino Long Sleeve is an excellent option for those looking for a long sleeve shirt that is both comfortable and stylish. It's made of 100% Merino wool, which means it's breathable, soft, and natural. The shirt comes in lots of colors and styles so you can find the perfect one for you.
Long-Sleeve Merino Crew
The Unbound Merino Crew is made of 100% Australian merino wool. It's thicker than most other brands at 5.5 oz per square yard than 3-4 oz, making it warmer than most other options. The fabric has a nice stretch, a little more than average, so you can move around freely without feeling restricted by the fabric like you would with cotton or polyester blends.
The Unbound long-sleeve Merino crew neck shirt is available in two different fits: slim fit and regular fit. However, neither of them is particularly slim or tight-fitting, like some other brands cater to men who prefer trim or athletic cuts. The fit is not too tight or buggy; it's just the perfect fit. Visit the brand's website to get your unbound crew neck today.
Ivory Merino Blend Long Sleeve Crew
The ivory Merino is made of 100% Merino Wool. This material is naturally breathable and soft, perfect for an undershirt or base layer. It also regulates body temperature, so you don't get too hot or cold.
This clothing item is a blend of the sweater and Long Sleeves For extra warmth and extra coverage In the winter. It is also perfect for working outside in the elements with your hands or tools. You won't get any injuries to your skin from scratching them against sharp objects like rocks & burs on trees while gardening Or working outdoors in the cold weather months of fall & winter time of year.
Unbound MerinoTencel Sweatpants Review
Unbound MerinoTencel Sweatpants are a high-quality pair of pants I've been wearing for the past few months. They're comfortable, stylish, and durable. The pants have some lovely details like an elastic waistband and drawstring that allow you to adjust how tight or loose they fit. Also, two pockets on the front are large enough to hold my wallet without it sliding out when I sit down. Let's look at The Merino Tencel Sweatpants, one of the best pants offered by the company.
MerinoTencel Sweatpants
Merino Wool is a blend of wool and Tencel. It has a great feel, and it's perfect for athletic wear because it's breathable and moisture-wicking. Unbound MerinoTencel Sweatpants are great pants to wear in the gym or around the house.
Unbound MerinoTencel Sweatpants have a great fit and feel. They are lightweight, but they still provide warmth without being too heavy or bulky. The material also stretches well to move freely without feeling restricted by your clothing.
These pants are made from 100% Tencel, making them very soft to the touch and comfortable to wear during exercise or just lounging around the house on a lazy Sunday afternoon with family or friends. 
Unbound Merino Reviews from Customers
Our team went through several websites to check what customers had to say about this Toronto-based brand. We did not find any general reviews on the brand's website.
On TheBareFootNomad.com, one reviewer had a lot to say about Unbound Merino. They gave the brand a 10 out of 10 and stated that they love their products because they were stylish and comfortable to wear. The little wrinkles were removable with a little water spray during a freezing day. 
The customer said they could not hide their joy about the jackets, as they could fulfill what was described on their page as "cozy and warm. They recommended the product to anyone who wants to stay in fashion while feeling comfortable at the same time. 
From DurabilityMatters.com, one of the customers reviewed all the brand's characteristics, including its services, quality, and care. In terms of service, they were the best; the quality of the materials used did not absorb any sweat, leaving you to smell fresh all day.
We came across the negatives of how a single shirt from the brand costs over 65 dollars. They ended up saying they would never find themselves buying from them again.
Further customer reviews
On Amazon, the brand was given a 4.5-star rating, with 75% of the reviewers giving it five stars. One of the customers stated that the Unbound Merino Wool Boxers were a great pair of underwear. They loved how the boxers are made from soft and high-quality merino wool, making them very comfortable to wear. They also said that the fit was excellent, and they didn't ride up or roll down like other brands they have tried.
Another customer loved raved about the durability of their apparel. They were impressed with how well their garments held up to everyday use, which can be hard on your clothing. 
Some customers left negative reviews, with most of them complaining that their products are expensive. 
Sign Up for Unbound Merino
If you want to become part of the Unbound Merino family, visit their official website and click on the profile icon. Hit the New Customer? Sign up → button and fill out the registration form. Enter your basic details, including your active email address and names. By signing up for their newsletter, you will be assured of being among the first people to get notified about any discounts and promotions available. You will also be alerted to the incoming new stocks. 
Where to Buy Unbound Merino
You can easily find this brand's entire collection by visiting their website UnboundMerino.com. You can also buy their items from Amazon and their Facebook home page. From the reviews, we would advise the best place to shop is from their website because you are assured of originality. We are not saying that other stores sell fake items, but we are just putting a disclaimer; if you want to have a great experience and save money while purchasing your favorite Unbound Merino products, you might want to head over to their site.
Unbound Merino Shipping and Return Policy
The brand ships both locally and internationally. However, the shipping fee varies with the distance, the weight of your package, and the type of shipping used. For instance, shipping in Canada will be less than $10, while outside Toronto, the minimum cost can be $20.
If you are not satisfied with the Unbound Merino product you have purchased, the brand gives a return window period of 90 days. You must pass all that is required to confirm your refund eligibility. The item you want to return must be unworn and in its original state (the tags and the packaging they used to ship to you must be still intact.) Also, the items must have been bought directly from their website.
You are guaranteed a full refund if you adhere to the brand's return and exchange policy.
Unbound Merino Promotions & Discounts
The brand has several discounts to offer that customers can enjoy. Some of them include:
10% off the first purchase you make
10% discount after using VANLIFE as their promo code
Get 30% off and give your friend a 30% off after a successful referral and purchase of goods above $75
Despite the offers that the brand has, you have to visit the website more often to know what they have at that particular time. From a reviewer who referred a discount coupon only for them to get it expired, this Unbound Merino review would advise you to visit their page to know which discounts are active before placing an order.o
Contact Unbound Merino
If you have any questions about Unbound Merino or their products, you can contact their support team through the following methods.
Filling out the contact form on Unbound Merino's site
Emailing the support team via address:help@unboundmerino.com 
Sending a message to the Unbound Merino Facebook or Instagram page
We did not find any Unbound Merino phone number when doing our review.
Unbound Merino Review: Editors' Verdict
This Unbound Merino review recommends this brand to anyone looking for high-quality men's or women's garments made from merino wool. You don't have to worry about the sizes or colors because they come in several colors and are available in regular and tall lengths.
The first thing you'll notice about Unbound Merino is its customer service. If you have any questions about their products or want to return something, their support team is courteous and responsive.
Customer service is not the only great thing about the brand: the Unbound Merino sizing chart is available on every product page to guide customers and help them discover the size that suits them. In turn, this ensures that everyone has a thrilling shopping experience.
The post Unbound Merino Review appeared first on BrandRated.