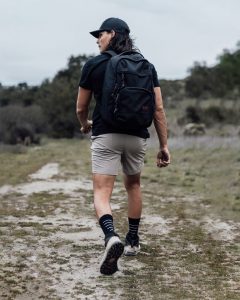 Ten Thousand Review
Ten Thousand is one of the most sought brands for activewear designed for all types of workouts and pieces of training. Theis direct-to-consumer brand sells a variety of workout gear, such as shorts, shirts, socks, compression shorts, water bottles, and pants. The brand focuses on functionality and simplicity as opposed to loud patterns, neon colors, or the outrageous typefaces we see in the market today. The company boasts thousands of followers on social media platforms and has built up quite a dependable foundation. This Ten Thousand shorts review will look at the brand's shipping policy, customer ratings, best-selling products, and more to determine if this activewear company is worth checking out.
About Ten Thousand
The active gear brand was founded in the year 2013 by the duo founders Keith Nowak and Eugenio Labadie. The company's headquarters is located in New York, United States. The brand focuses on providing its consumers with high-quality workout apparel at pocket-friendly prices. 
The brand's quality fabrics are sourced from Italy and Taiwan. The company believes in work in progress and focuses on continuous improvement day in and out. 
Their gears are built to perform at the highest levels. Before any product launch, the company puts the products through a quality testing process to ensure that they are fit for any activity thrown at them. All the workout essentials are designed to last and each one of them is specifically subjected to its functionality level. 
The brand has 181k followers on Instagram and more than 25k Facebook followers. Men's Health and MensJournal.com have also praised the company.
Pros
All the company's gears are field-tested to ensure performance
Before creating the gears, the company conducts thorough research and tests to collect data
Each short ensures good long-term durability no matter what you throw at it
The company has a one in/one out recycling program that allows customers to return old garments for discounts
Customers enjoy exclusive deals through the Ten Thousand team reward program.
The company offers free shipping, returns, and exchanges for orders with a window period of up to 90 days
Cons
Some customers find the apparel pricier than the average workout clothes in the market
Limited collection
The company does not offer international shipping
Visit Ten Thousand
Ten Thousand Shorts Review
Ten Thousand shorts are created with a modern aesthetic and they come in monotone designs of simple, dark, or neutral colors. Some shorts feature a few camo prints for pattern lovers. This Ten Thousand shorts review will now look at some of the brand's bestsellers
Ten Thousand Session Short
If you are looking for a pair of shorts that is light and free, the session shorts are the perfect ultra-light and minimalist pair for you. Ten Thousand Session Shorts come with laser-cut ventilation and a perforated waistband to ensure maximum breathability. 
The moderate short features a carry pocket system to keep your essentials safe while in the workout session. The short is made from a moisture-wicking blend of polyester and spandex that is also cling-free to ensure stress-free mobility.
The sweat-wicking feature ensures that the shorts dry out faster to keep you comfortable throughout the workout session. The pair also features an anti-odor treatment boxer brief liner to prevent chafing and ensure that the only thing running through your mind is the exercise. The company does not cut out corners while creating the session shorts and incorporates bonded hems to ensure no bulk.
Ten Thousand Session Shorts are available in black, light gray, stone, admiral blue, mesa red, black camo, and navy blue. The shorts are available in 7" and 9" inseam and are perfect for various types of workouts, including long runs, sprints, woods, and boot camps. The company offers a sizing chart to ensure that you take home the exact fit for a smooth workout session.
Ten Thousand Foundation Shorts
This pair is for people who value durability and comfort during their training sessions. The brand incorporates modern technology to create pieces perfect for the gym or outdoor workout. Ten Thousand Foundation Shorts are crafted using an anti-abrasion fabric for quality and long-term durability.
The brand's foundation shorts feature a blend of 88% Polyester and 12% Spandex, double weaved to ensure strength and firmness. The mid-weight fabric is tough enough to withstand the wear and tear of the hardest adventure or exercise. These shorts feature a two-way stretch for flexibility and comfort. The pair gives you the perfect waist fit with the broad short drawstrings inserted inside the waistband. 
The pocket system includes the zip pocket on the right side and the slain pockets on the left side. The easy-to-access pockets provide enough room to keep your items, such as car keys and money phones. The shorts come in a range of plain, bold, and solid colors, including black, navy blue, iron, deep sea, maroon, and admiral blue. Some of these shorts have a liner, while others don't, and they come in 5″, 7", and 9″ inseams.
Ten Thousand Interval Short
Loved by most athletes and gym-goers, the Ten Thousand Interval Shorts are among the best-selling in the line because of their mobility and versatility. The shorts feature a blend of 86% Polyester and 14% Spandex that are flexible enough to handle anything thrown at them. 
The interval shorts are lightweight and comfortable with an optional built-in liner, depending on how you want them. These shorts don't come with a bunch waistband and feature bonded hems to ensure no-bulk and lightweight executions. 
The interval short features a carry pocket system to keep your important items safe while in the gym, adventure, or running session. The sweat-wicking and cling-free fabric ensures quick drying and stress-free mobility. 
Additionally, the shorts feature permanent silver ion anti-odor treatment for comfort and breathability. They also have a four-way stretch for maximum range of movements and motion. The best-selling pairs are available in 5″, 7", and 9" inseams and come in various bold colors, including black, light gray, maroon, stone, admiral blue, black camo, and navy blue.
Ten Thousand Workout Short
All gym-hitters, fighters, and runners need something that stays in place no matter what move they make. Ten Thousand Workout Shorts are the perfect pair you can get. The pairs are designed and tested in collaboration with the MMA icons and the Brazilian jiu-jitsu champions. The company creates the modern workout short with motion and durability in mind. 
The shell is made up of a combination of 86% Polyester and 14% Spandex that is moisture-wicking to ensure quick drying, comfort, and weight reduction. The liner, on the other hand, features 78% Nylon and 22% Elastane.
The contemporary waistband features a stay-in-place system with a gripper to ensure that the shorts don't move throughout the session. The shorts also feature a drawcord system at the waist to provide a more secure fit. The side slits ensure that your legs are comfortable in whatever motion.
Ten Thousand Workout Shorts stay in place because of the innovative gripper hems and trunk liner. The pair features a permanent silver ion anti-odor treatment throughout the inner and outer parts. The shorts are available in black and jungle colors only. 
Tactical Ten Thousand Shorts
If you are looking for mobility, durability, and versatility in one workout short, check out the brand's Tactical Shorts. These Ten Thousand Shorts are designed and tested in collaboration with the United States special operation forces. 
The shorts were crafted to hold off the ever-demanding and changing exigencies of military fitness. The high-performance workout short comes with plenty of features and functionalities for any kind of training, including the hard gym times, long runs, tough adventures, and much more.
The shell fabric features a combination of 80% Nylon and 20% Spandex. The fabric is lightweight and durable to ensure ultimate versatility. Ten Thousand shorts come with a tough waistband to keep them in place regardless of the activities thrown at them. The fabric absorbs moisture and dries out faster for comfort all through the workout.
The shorts feature closeable side pockets to keep your items safe. They include an optional liner with a permanent odor treatment to keep you fresh the whole time. Your legs are completely flexible with side slits that ensure maximum mobility. The shorts come in 5" and 7" inseams and are available in black, OD green, stone, slate, green smoke, and iron. 
Ten Thousand Shorts Reviews from Customers
Our Ten Thousand shorts review investigated what customers think about this activewear brand and its products. On their official website, we came across over 14k positive remarks about the company. The site has a consumer rating of 5/5 stars, and customers are happy about the quality, fit, and sizing of the shorts. Some customers love the simplicity, the few prints, and the convenience that come alongside these elegant shorts for the workout. Other customers raved about the toughness and durability that the shorts tag along. 
The majority of customers were satisfied with their purchases. Furthermore, customers love the pocket system that allows them to keep their things safe as they do their workouts. The waistbands are designed to keep the shorts in position and prevent fallouts in case of rigorous activities, meaning that all-day comfort is guaranteed. 
We also checked what customers on Reddit had to say about this company. The brand had a 4.2-star rating and an overwhelming number of positive feedback. 
Customers commended the timely shipping, products fit, and quality that gets even better with time. Others praised the shorts for being so supportive and comfortable.
Although we came across a few negative comments on higher pricing, many customers felt the shorts were worth every dime they spent. A significant number of customers loved the durability and sturdiness of the fabrics, while others said their shorts were perfect and comfortable to wear.
Sign Up for Ten Thousand
To start shopping at Ten Thousand, you need to visit their sign-up page on the company's website and create an account. The registration process is simple and quick and will only take you a few minutes to complete. You are required to provide your first and last name, valid email address, and password. The site will send you an email with a link that you will use to activate your account. 
Once you are done with the registration process, feel free to start browsing through the products they offer and have a happy shopping experience. You will also get updates on new arrivals, improvements, products, deals, and shopping reminders.
Where to Buy Ten Thousand Shorts
You can access the whole collection of Ten Thousand shorts from the company's website TentThousand.cc. International customers can find their products at Huckberry. But it is important to note that the company does not ship products internationally. 
Shipping and Return Policy
Shipping:
Ten Thousand offers free shipping on all US orders via USPS. The brand sends an email to the customers with the tracking information once shipping begins. Order processing may take 3-5 business days, while arrival time takes 5-7 days, depending on the location. Even though the brand does not ship products internationally, international buyers can access its products through Huckberry.
Return Policy:
Returns and exchanges are allowed within 90 days from the date of purchase. The products should be unused, tags in place, and their original packaging to be accepted. Defective products are eligible for an exchange. For more information about returns and exchanges, you can send your inquiry to support@tenthousand.cc.
Ten Thousand Promotions & Discounts
The company offers several ways for customers who want to save money, including the one in/one out recycling program whereby customers send back old garments for discounts. Ten Thousand also offers reward programs for exclusive deals. 
Additionally, the company offers a 25-percent discount for the current & former U.S. military, their spouses & dependents, and the first responders, including law enforcement, EMS, and fire.
Contact Ten Thousand
If you have further inquiries that we did not cover in this Ten Thousand Shorts review, you can always reach out to the company's customer support team by submitting a request for contact on the company's site. You could also send an email to support@tenthousand.cc.
Ten Thousand Shorts review: Editor's Verdict
This Ten Thousand Shorts review concludes by saying this activewear company is worth it, as it provides value for money. Online reviewers listed more positive than negative remarks on various websites. The company offers high-quality workout garments for men with their comfort and durability in mind. 
The company has carefully considered that the training and workout take a lot of hard work, and the shorts need to stay in place all through.
Ten Thousand has become the go-to brand for gym-goers, runners, sprinters, military officers, and more. The shorts come with comfortable designs, performance technology, and an attractive aesthetic.
While Ten Thousand is pricier than the other brands in the same line, athletes take home pieces worth every dime. The shorts look and feel great. If sweating has been an issue for you, you will never regret adding several moisture-wicking workout shorts from Ten Thousand to your wardrobe.
Are you looking for other workout-related brands? Check out our reviews of 10 Best Home Gym Equipment Brands, Find your Trainer, and 15 Brand like Gymshark. 
The post Ten Thousand Review appeared first on BrandRated.