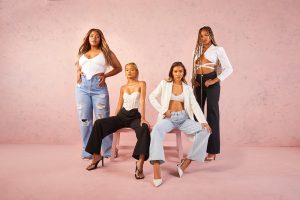 Boohoo Review
Dropping over 500 stylish items weekly, Boohoo is one of the best sources to learn what's in and what's out when it comes to your fashion choices. But what about the clothes they sell? Is the customer service trustworthy and reliable? Is this company another example of poorly made fast fashion or are Boohoo clothes worth your money? And most importantly, what do Boohoo reviews say?
We're sure you have got a lot of questions and today we are going to answer them all. In our Boohoo review, we are going to look behind the brand's history, values, and production process and take a close look at the clothes you might be hesitating to order. To give you our 100% unbiased and honest review, we also collected Boohoo reviews by previous shoppers and we are ready to share them all with you!
About Boohoo
The history of Boohoo goes back to 2006, the year when the company was founded. Looking back, the success of Boohoo is unquestionably the result of their trend-following designs that come with the budget-friendly price tags many can afford. What also helped expand the company and create worldwide attention is its strong online presence and social media strategy. In 2013, the company hit 1 million followers on Facebook and opened the very first Boohoo showrooms in London.
10 years after founding Boohoo, the company has launched boohooBeauty, as an addition to their fashion apparel. Being a fast fashion brand dropping hundreds of new items on a weekly basis, many people question the company's efforts when it comes to sustainability and environmental awareness. However, in 2019, Boohoo introduced their recycled "For The Future" collection and started using 100% recyclable parcel bags made of recycled materials.
Pros
A large selection of trend-led clothes, especially in the women's section
Very affordable, budget-friendly pricing
Based on the majority of reviews, clothes are true to size
Huge customer community with more than 10 million followers on social media from all over the world
Regular charity activity
Cons
No phone number is available to get in touch with the customer service
Shipping takes a long time (standard delivery time starts at 5 business days)
There are a few complaints mentioning that the sizing can be hit and miss
Visit Boohoo
Boohoo Clothing Review
In the next section, we are going to take a close look at different items sold by the brand. We are going to pick popular categories from the Boohoo womens clothing section and see what the company has to offer to men as well. And as you might have guessed already, we are also going to share with you some Boohoo reviews from previous customers we collected from multiple sources. If you're ready, let's get into it!
Boohoo White Dress
If you want to treat yourself to a chic Boohoo white dress for the summer season, we've got good news for you! Looking at the selection, there are plenty of stylish, beautiful dresses to choose from. In terms of categories and styles, you can find beach dresses, blazer dresses, denim dresses, and wrap dresses, just to mention some. No matter the occasion, you will most likely find something that fits your taste. Speaking of fits, the sizing varies from XS to XL or 0 to 24.
The prices are quite reasonable, too. You can find casual, lightweight summer dresses for less than $10.00. The cheapest dress, the Off Shoulder Crochet Sleeve Dress cost only $8.00 and it is a perfect piece to pull out of your closet during the spring or summer period.
As we always do, we looked at the other end of the price range, too. The most expensive dresses cost $273, but at the time of writing, they can be purchased for $109.20. The most expensive item is a maxi dress Boohoo offers for bridesmaids. However, it is available in multiple colors which makes it a perfect pick for not only bridesmaids, but anyone searching for chic outfits to attend a wedding party or other special occasion.
Boohoo Maternity
The Boohoo maternity section focuses on stylish clothes that will make you feel at your best all through your pregnancy. You can find all types of maternity clothes in this category for an affordable, budget-friendly price. There are Boohoo shorts, jackets, coats, dresses, jumpsuits, loungewear, nightwear, rompers, skirts, tops, sweaters, pants, and anything you can think of. There is even a wide variety of beachwear, swimwear, and accessories you can choose from.
So if you're expecting, and you don't want to spend too much on clothes you will wear for only a short period of time, Boohoo is definitely a go-to place for cute maternity outfits on a budget.
Front Thong Swimsuit Boohoo
Summer is definitely upon us, and to be fair, with a hot, well-made swimsuit you can never go wrong. Looking at the website, there is a huge selection of front thong swimsuit Boohoo offers for those who want to keep it cute and sexy. In terms of fit, swimsuits are available in 3 fits:
standard, which is named the Main Collection
Boohoo Petite
Boohoo Plus and Curve
The prices vary from $16 to $40, but if you catch a good deal, you can purchase swimsuits for less than $10!
Boohoo Hoodies
Now let's take a look at the men's section, too. One of the most popular and best-selling items is the Boohoo hoodies. If you are looking for a cozy hoodie that will keep you warm or you would like to add some cool graphic print designs to your closet, the hoodie selection at Boohoo won't disappoint you.
In terms of sizing, Boohoo hoodies are available in a broad range of sizes, starting from XXS to 5XL. You can filter the results by style, so in case you prefer plain hoodies or printed hoodies, you can easily find what you're after.
The prices range from $32, the cheapest item being a basic, Over the Head Hoodie made of 80% Cotton and 20% Polyester. The most expensive hoodie is the Oversized Rick and Morty License Hoodie which costs $64.
Boohoo Shoes
Before we look behind Boohoo reviews from previous customers, let's take a quick look at another category from the men's section. There is a small selection of Boohoo shoes men can choose from. Here you can find some good-looking loafers, trainers, mules, and sneakers available in multiple sizes.
In terms of prices, the cheapest pair of shoes is the Quilted Faux Leather Mule which you can buy for $40. Most sneakers cost $60, but if you are lucky, you can catch a deal and buy them for much less. When we are writing this review, even the most expensive pair of Boohoo sneakers are available for less than half price.
Boohoo Size Chart
Despite the general opinion agreeing on clothes being true to size, there are a number of Boohoo reviews from customers saying that some items do not fit as expected. If you are not sure which size fits you the best, take a look at the Boohoo size chart.
This allows you to select the gender, the category of the item you plan to purchase, and the fit you are after. You can find here a short instruction on how to measure clothing and what to focus on when taking your body measurements.
For bust, waist, and hips, you can see the sizing in inches and centimeters too. Furthermore, at the bottom of the page, you will find a very useful table including all international conversions.
Boohoo Reviews from Customers
Now that we have looked into the clothes in both the women's and men's sections, it's time to share with you our impression of Boohoo reviews from customers. On Trustpilot, based on 179,409 reviews, the company has a 4.0 rating out of five which means Great in Trustpilot's rating system. 63% of the people rated Boohoo Excellent, 14% Great, 6% Average, 6% Poor, and 11% Bad.
People are mostly satisfied with the brand, they are happy with both the quality of the clothes, both the customer service. A previous shopper on Trustpilot says: "Always received items on time, as described and at a good price. Returns are easy and the company is quick to respond when you get in contact with them."
Those who complain, are usually frustrated by the long delivery time, as standard delivery takes up to 5 to 7 business days. Another common issue is sizing being a hit and miss, so make sure to check out the company's sizing guide before putting items in the cart.
Sign Up for Boohoo
When it comes to the sign-up process, things couldn't be simpler. The whole process can be done in less than a minute. All you need to do is to head to the registration page on the official Boohoo website and choose from the two available options to create your account. The easiest and fastest way is to register with your Facebook account.
Another option is to create your account by using your email address. For this, all you need to do is type your email address in the box, hit the "Continue" button, then fill in the registration form. Here you will be asked to add your personal information such as your first name, last name, and date of birth. Last, but not least, you will also need to create a password. Moreover, on the same page, you can choose whether or not you would like to receive notifications of exclusive discounts and deals via email, SMS, post, or all three.
Where to Buy Boohoo
Being an online fashion retailer, you can purchase Boohoo clothing by heading to the official Boohoo website. Shopping online is not only convenient, but it has its own perks too, especially when it comes to special promotions and sales.
Boohoo Shipping and Return Policy
Shipping
According to the company's shipping policy, when you place an order from the US, you can choose from 2 shipping types:
USA Standard Shipping: If you opt for this delivery type, you will need to pay a $9.99 shipping fee. Your order will arrive within 5 to 8 business days. However, if your order amount exceeds $50, your package will be shipped free of charge.
USA Express Shipping: It costs $14.99 and it allows you to receive your package within 3 to 4 business days.
You can also opt for the Click and Collect service via the UPS Access Point Express Collection. Similar to the USA Express Shipping, this will take up to 3 to 4 business days. If you choose this way to receive your package, an additional $13.00 fee will be added to your order at the checkout page.
If you are shopping from Hawaii, the shipping time can take up to 4-5 weeks, so keep this in mind. Boohoo tracking can also help you follow up on the shipment of your package.
Returns Policy
When it comes to the Boohoo return policy, you have 28 days to return the unwanted items and ask for a refund. The process is quite simple, but you need to follow the steps required by the company.
First, you will need to head to the Returns and Refunds page on the official Boohoo website and create a return. To do this, you need to log in to the Returns portal, where you are instructed to add your order number, email, and the last 4 digits of your phone number, so the company can identify your order. You can also select a return option you prefer. Once you are done with this, you can pack the items in any non-see-through, sealable and waterproof packaging.
According to the website, refunds are usually processed in 5 to 7 days. In most cases, you will get a full refund. Although, if you paid for your order with store credit, or you used a voucher or gift card, the replacement to the value of the refund will be issued.
Boohoo Promotions & Discounts
If nothing else holds you back from placing an order but the final amount at the checkout page, here're some hacks that help you save some money. Boohoo offers multiple promotions and discounts, so it is worth doing some research before sending your order.
The easiest way to save money while shopping at Boohoo is to subscribe to the company's email list. You can do this on the official Boohoo website, and it will instantly give you a 10% discount on your first order.
If you are a student, you can benefit from an extra 5% discount you can use. But this is not all. At the time of writing, two major sales are going on the website. You have basically two options to choose from and we have to admit, both are very very convincing. The first one you can benefit from is a "60% off everything" sale.  While the other option you can choose is a "50% off everything" sale with free shipping.
And before we forget to mention, at the time of writing, there is another way to get free shipping. With the promo code SHIP, you can have your order delivered without having to pay any shipping fee.
Boohoo Customer Service
If you want to contact the Boohoo Customer Service, you can choose from the 4 different options listed on the contact page of the Boohoo website:
Send the company a text message via Apple Message
Contact Boohoo through their Facebook page
Get in touch with them on Twitter
Use the Email Us feature on their official website
Unfortunately, there is no information about how much time it takes to get a response. Also, the company does not have a phone number, so it seems that patience from the customer's side is pretty much expected.
Boohoo Reviews: Editor's Verdict
At this point, you must be curious, what is our verdict? Will we encourage you to shop from Boohoo or we will advise you to look further instead? Well, we have to say that based on all we learned today about the company, including the Boohoo reviews from customers, we can confidently advise you to shop from Boohoo.
Boohoo is a trustworthy fashion brand with legit efforts to be as sustainable as a fast-fashion brand can be. Their clothes are well-made and affordable, both being huge advantages when it comes to shopping. So if you are after trendy chic clothes, but you are on a budget, Boohoo is one of the go-to brands that are worth your trust and money.
Are you on the lookout for more fashionable clothes? Consider reading our extensive reviews of Adore Me, Annie Cloth, and Aday Clothing.
The post Boohoo Review appeared first on BrandRated.