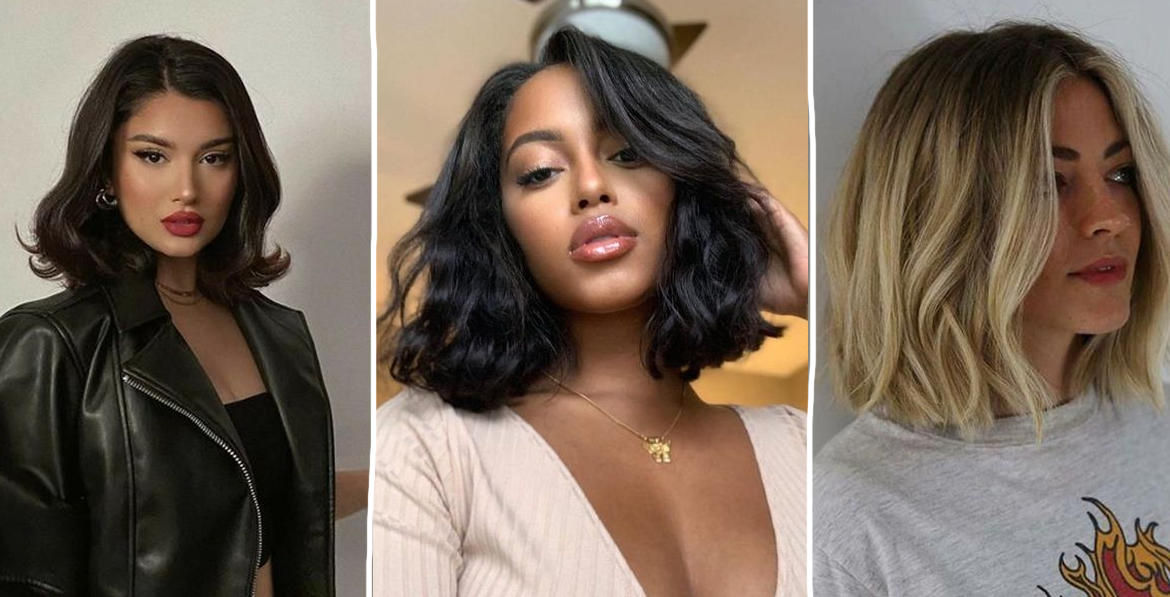 Hairstyles For Short Hair That Are Halo Friendly
Calling all slightly regrettable bobs, impulse cuts, and those who are loving their short hair (most days). We get it. You made the chic chop and it's fun most of the time, but finding hairstyles for short hair can be tricky when you feel like there's not many options.
Well, all length is not lost! Using hair extensions for short hair is the answer to wistful length and volume. And TBH halo hair extensions are the best extensions for short hair.
You still get to enjoy your chop AND you can pop it in when longer manes are desired. Whether you're waiting for things to grow back or you just love the versatility of going short to long on a dime, these are five hairstyles to do for short hair looking for The Long Hair Experience.
Read Next: 8 Ribbon Hairstyles to Try With a Halo
Short Hairstyle 1: Make Your Bob even Bob-ier
What started as a few celebs venturing into short hair, has now become an entire bob movement across our socials. To give your bob the same body celebs get from their glam team, you can actually use your halo to fill it out. They're not just for length, btw!
Halo extensions are perfect for making your bob bolder because they're actually designed for volume and gap coverage first. They give that nice boost of volume to ends, bringing your short style into 2022 territory.
To style your halo with a short hairstyle, we suggest cutting its ends to the current length of your bob. Give it a blunt cut as opposed to layering to add the most amount of thickness to ends. We wholeheartedly suggest you get it professionally cut if you're even slightly concerned about your skill level here.
But! If you're planning on DIY-ing this look: take the time to be meticulous with placing and securing your hairpiece before grabbing the shears as you'll be CUTTING your halo… and that's permanent!
Once you're ready for the chop, cut along your end-line. Essentially just matching the length of your halo to your natural hair's cut.
Big Tip #1: Grab a friend to help with the back.
Big Tip #2: Taper edges with small vertical snips to ends.
And voila! You're now the proud owner of the fastest throw-on style for your bob.
Short Hairstyle 2: Flip in or Flip out
Did we love the resurgence of flipped up ends at first? No. Are we absolutely obsessed with them as a hairstyle for short hair now? YES. Firstly, you don't need to have the most uniform flip out to your ends, you can have casual turn-ups and turn-ins that go more 60's glamour than 60's cartoon, AND you can rock them in a pony or in a downstyle.
Here's where your halo goes to werk: The star power of this short hair hairstyle rests in your hair's ends. And with all that added length and volume to your locks, you've got tons of end to work with.
Using a curler or straightener, flip your ends inward or outward, piece by piece. Again, you can hot tool your way to a uniform flip OR alternate ins and outs for a bouncy curl effect.
If you want to rock a flipped end pony, you can still use your halo here too. To place:
Style your natural hair into a regular ponytail sans halo.
Replace your halo's wire with bobby pins on either side.
Secure one pin to the base of the pony and continuously wrap the weft around it.
Once you've wrapped your halo around, secure the other bobby pin into the base of your now larger-than-life pony.
Wear a scrunchie to cover any weft and clips OR wrap a small section of hair around the pony base to hide that behind-the-scenes work.
Just like your downstyle, flip ends with your hot tool of choice and lots of *hairspray.
*Remember: Always opt for lightweight sprays for halo extensions.
Read Next: The Best Hair Styling Tools to Boost Your Daily Hair Routine
Short Hairstyle 3: More is More Accessorizing
Have you ever played dress up and tried to put on as many things you could find? This is that. But in a very grown up way. And while this isn't exclusively a hairstyle for short hair, it makes the most of your hair real estate in the funnest way possible if you do rock a shorter length.
To pile onto the clip trend, the rules for execution here are fast and loose. Literally. Style as desired and snap clips. There's endless placement and clip coordination options, but these are some of our faves:
Go super matchy-matchy with one colour or stone type like pearls. Create your own headband with face-framing bobby pins. Or go crazy on eclectic with a little bit of everything… everywhere.
And trust us, finding your fave way to combo this hairstyle for short hair is the little clip-me-up you didn't know you needed.
Read Next: Protective Sleep Hairstyles To Avoid Hair Damage
Short Hairstyle 4: Bedazzle Your Baby Beach Waves
Already a staple in any short hair's style repertoire, this updated beachy wave is the cool younger sister of curls. Accent your windswept wave with sparsely placed braids for the ultimate done-yet-undone look. Plus! It's also great for blending your halo hair extensions.
To elevate this effortless hairstyle for short hair, use a wand or hair straightener and throw in loose waves throughout your hair for total blending and windswept-ness. And just as casual as that, add a handful of small braids throughout. We suggest leaving out the elastics for the eeeextra bit of laid back to your look.
Lastly, finish with an allover spritz of texturizing spray for gritty volume. Sea salt sprays are fine for halos, too–just make sure you wash this product out of your halo after each use and maybe use sparingly!
One other tip? A freshly washed halo will give you a bit of beachy curl from the get-go as it naturally dries this way.
Read Next: The Easiest Way To Curl Short Hair
Short Hairstyle 5: Bow'd Half Up
Half-up hairstyles are kind of our favourite halo hairstyles. And they make short hair look so much more luxurious. every time.
One amazing inspo era for half-up hairstyles is the 60's: they're a transformative hairstyle for thin hair, perfect for flattering any face shape, and they're so, so easy to put together!
For this hairstyle, your halo will need to sit slightly farther back on your head. This way, there's ample hair in the front to pull over the wire and hide it! Once placed, you can create your pony portion of this hairstyle. From the crown, tie a high pony that sits close to your head, leaving enough hair in the back to cover any weft.
Lastly, get that full outdoor-voice kinda volume with big barrelled curls to all areas of the hair. You can even tease out your curls with a paddle brush for an extra bit of retro charm. Even without a halo, this style makes the finest of hair look THICK thick.
Love styling your halo? Read these next:
10 Ponytail Hairstyles You Can Do At Home
5 Easy Hairstyles Using Halo Hair Extensions