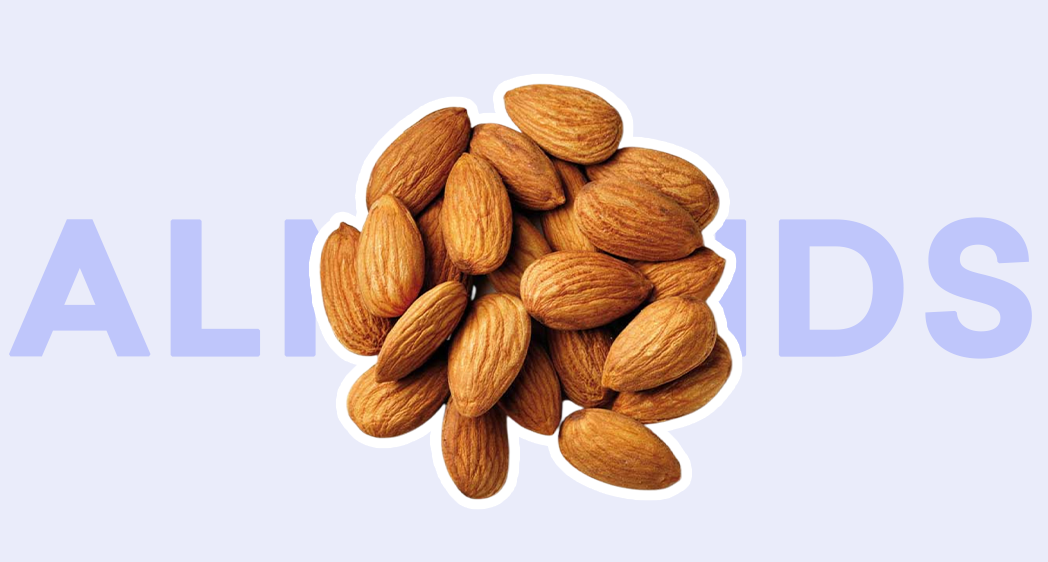 What's The Best Food For Hair?
Layering on the hair oils, glossing treatments, and frizz-fighting serums can make hair look pretty healthy, but knowing how good food can be for hair is the real healthy hair hack. In the same way that eating nutrient rich meals with fewer refined sugars can give you more hydrated skin, the same is true with a hair-happy diet of vitamin rich foods for hair.
For when a leave in conditioner and 8 glasses of water just isn't enough, boost your grocery list with these powerful foods for better hair days (and better health too!)
Wanna shop first? Take me to my halo hair extensions.
Almonds
Particularly jam packed with a variety of vitamins and minerals, these tiny wonders are incredible for hair, skin, and general health too. One potent mineral found in almonds is magnesium: believed to assist in boosting your immune system and improve brain and heart health. To put it in perspective, 60g of almonds contains 160mg of magnesium–that's half your daily magnesium intake! Aside from this harder to find mineral, almonds also contain many hair happy ingredients like folate, iron, Vitamin E, zinc, and niacin.
Because almonds are rich in fatty acids and Vitamin E (which is why almond oil is so good), almonds are able to nourish the skin and provide omega 3s to hair cells. Along with those fatty acids, the Vitamin E makes hair shiny, strong and is able to open up the hair follicle to more nourishing vitamins. You can basically think of almonds as food for hair and skin.
Add a handful of almonds to oats or chia pudding for breakfast, put almond butter on your toast or chop them up and add them to a salad.
Read Next: 5 Natural Scalp Treatments You Can DIY
Avocado
Like almonds, avocados are more than just a go-to brunch option. Avocados are highly nutritious and a great source of healthy fats. In addition, they're packed with a good helping of biotin and vitamins E and C, which help strengthen your strands making them shinier while supporting hair growth!
Like vitamin C, vitamin E is an antioxidant that helps prevent oxidative stress by neutralizing free radicals. Vitamin E also protects areas of the skin, like precious scalp sebum, from oxidative stress and damage. Damaged skin on the scalp can result in poor hair quality and fewer hair follicles.
At brunch, as you're scanning through a brunch menu, don't be afraid to go for the avocado toast!
Read Next: Bad Ingredients in Shampoo You Should Stay Away From
Salmon
Out of all the excellent foods for hair, salmon is the ultimate hair-friendly treat. Fatty fish like salmon is an excellent source of protein, selenium, vitamin D3, and B vitamins—nutrients that are highly promised to promote strong and healthy hair. Interestingly, studies have linked vitamin D3 deficiency to hair loss. Although it's still unclear if low vitamin D leads to hair loss, it's a good idea to include fatty fish and other sources of vitamin D regularly in your diet to negate any potential loss.
In several studies, fatty fish like salmon, herring, and mackerel have been proven to show some of the highest levels of omega-3 fatty acids, which are directly linked to hair growth.
Read Next: Protective Sleep Hairstyles To Avoid Hair Damage
Eggs
It's no secret that eggs are packed with some powerful proteins that are an essential macronutrient for healthy hair growth. In a single egg, you can find proteins like choline, iron and vitamins A, D, and B12. Plus, nutrients like lutein and zeaxanthin have also been found to help maintain cellular health in hair, skin and eyes. Biotin in eggs is a super vitamin that contributes to hair growth. Like Vitamin E, low levels of biotin in our systems can lead to excess hair loss.
As far as a good food choice for hair, eggs should be considered an egg-sential so grab the frying pan and crack an egg or two in the morning to ensure you're getting all the goodness needed for your gorgeous mane. Alternatively, you can throw together an easy hair treatment with egg that'll provide some hydration too!
Read Next: What Is Alpha Hydroxy Acid And What Can It Do For Your Hair?
Flaxseeds
Seeds can be both a crunchy snack to nibble on and a healthy source of rich nutrients. Flaxseeds, in particular, are packed with vitamin E, zinc, and selenium. Similar to nuts, flaxseeds also contain vitamin E and other nutrients that may promote hair growth. In addition, flaxseeds are also enriched with fatty acids like omega-3. About two tablespoons of flaxseed provide about 5 grams of omega-3 fatty acids, which is more than half a fillet of salmon!
But! The type of omega-3 fatty acid found in flaxseeds isn't as efficient as the omega-3s found in fatty fish. However, it can still contribute significantly to your overall hair health so keep adding a few spoons to a hairtox smoothie or salad!
Read Next: Causes of Hair Breakage and How To Fix It
Sweet Potatoes
Continuing with foods for hair growth, sweet potatoes also have some amazing vitamins to help prevent hair loss and promote growth. Sweet potatoes are a great source of beta-carotene which the body converts into vitamin A. In addition, research has found that vitamin A can boost sebum (good scalp bacteria) production, a hormone that maintains hair health.
In addition, a medium-sized sweet potato contains up to 160% of your daily vitamin A needs! It's a high percentage, so you need to be careful not to overdo it because, ironically, too much vitamin A can also lead to hair loss.
But don't let that stop you from opting for this amazing root veg! As long as you're not taking vitamin A supplements, you should be in the clear! In short, sweet potatoes get an A+ from us!
Read Next: The Hydrating DIY Hair Mask That *Actually* Nourishes Your Hair
In conclusion… many factors contribute to hair growth; if you're looking to find a way to prevent hair loss and speed up hair growth, it is best to have a healthy diet enriched with essential vitamins and proteins. That being said, if you're experiencing unexplained hair loss, make sure you speak with a health professional to rule out any other contributing factors.
But often, a healthy head of hair needs as much care from the insides as it does on the outsides. Likewise, a well-balanced diet has repeatedly proven to be the source of a luscious mane. So, next time you're at the supermarket, grab a few of the items listed above and make yourself a meal or two to give your hair the nutrients it deserves.
Want to learn more about hair health? Read these next:
Food For Thought: Is Your Diet Good For Your Hair?
Is Silicone Bad For Hair? We Answer All Your Questions And Concerns